Meat lasagna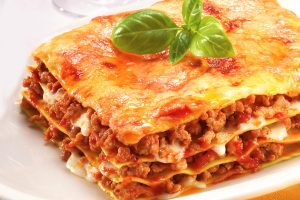 На 4 порции понадобится:
Canned tomatoes TM "Chigirin"
1/2 of can
Ready dry lasagna sheets
6 pcs
White wine
2,5 tablespoons
How to prepare:
1. Boil the pasta for lasagna.
2. Make the bolognese sauce: fry the mince in the pan, then put the tomatoes there, add spices (salt, pepper, basil, oregano), wine, put out for 5 minutes.
3. Make a creamy sauce: put sour cream on the frying pan, cut the fused cheese into the frying pan, put it out slowly on a slow fire until a homogeneous mass forms.
4. Divide both sauces conditionally into 4 parts. On a greased baking sheet spread out layers: pasta – bolognese – creamy. Sprinkle with grated cheese on top, bake in the oven until golden brown.